Home | Vision | Venue | Multimedia | Testimonies | About Us | FAQ | Contact Us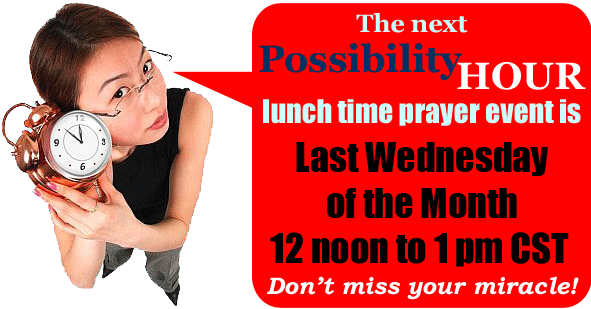 Take a break from stress and spend lunch hour with the God of all possibilities!
You might argue that having such an important prayer-meeting-event between 12 noon and 1 pm on Wednesday is very inconvenient and definitely "not wise."
Yes we agree. But remember:
"For the wisdom of this world is foolishness in God's sight."
- 1 Corinthians 3:19
God has anointed this single hour so much and in such a way that if you will "inconvenience" yourself and take the time out of your busy schedules and lunch-periods to come and pray at this odd hour, Jesus Christ will make you fruitful:
"Seek ye the LORD while he may be found, call ye upon him while he is near:"
- Isaiah 55:6
This hour is a no-nonsense prayer-intensive time which is why there is no church service or offerings.
This hour is not for host-church-members, even though they are welcome to attend, which is why there is no membership.
Bottom line – there are no strings attached.
This hour is not for those that are managing and improvising with their concerns but it is for those that are so inconvenienced and frustrated with their impossible dilemma, issues, and problems that they are willing to make this simple lunch-time sacrifice to resolve them:
"Call unto me, and I will answer thee, and show thee great and mighty things, which thou knowest not."
- Jeremiah 33:3
God has decided it is time to show himself strong in our individual lives in miracles, signs, and wonders and he has chosen to start from Wichita with this program.
Do you have those needs in your life that you have counted off as being practically impossible? Then Possibility Hour is for you. Do whatever it takes to be there!